Image courtesy of Blue Mountains Australia
Last month marked NAIDOC week in Australia, and saw our great nation celebrating the culture and history of our indigenous community along with the admirable achievements our first peoples have worked towards. As a long-standing member of the Blue Mountains community, this month inspired me, as always, to acknowledge and pay respects to the traditional custodians of our land; the Gundungurra and Darug people.
The Blue Mountains have long been home to Aboriginal communities, dating back tens of thousands of years. With a history steeped in culture, art, stories of the dreaming and an intuitive, respectful relationship with the flora and fauna of the land, the Gundungurra and Durag people's ongoing connection to their separate regions of the mountains means that there is still a significant number of traditional sites in recorded existence today. There are also many Indigenous communities still residing in the Blue Mountains, and we recognise them as the 'Traditional Owners of the land', respectfully thanking them for their strong and ongoing custodial relationship with the area. Because of our first people, we can still visit sites that exhibit evidence of tool creation, recreation and residency, and artistic work including rock art and carvings.
From the Gully, long considered one of the most important Aboriginal landmarks, to the Hawkesbury Lookout rock art known as 'the flight of the Great Grey Kangaroo', and even to our neighbouring Jenolan Caves, we acknowledge the stories told of our Indigenous history. Known as 'Binomil' to the Gundungurra people, the Jenolan caves dreamtime story is a stunning description of how the challenging and picturesque terrain came into creation. The story recalls an epic battle between the ancestral spirits, Gurangatch, a giant snake with fish-like qualities, and Mirrangan, a giant native Quoll. The pair struggled across the landscape of the mountains, scratching and carving divets, waterways and resting places that characterised the picturesque Woollondilly region. You can find out more about the dreamtime story of Gurrangatch and Mirrigan here.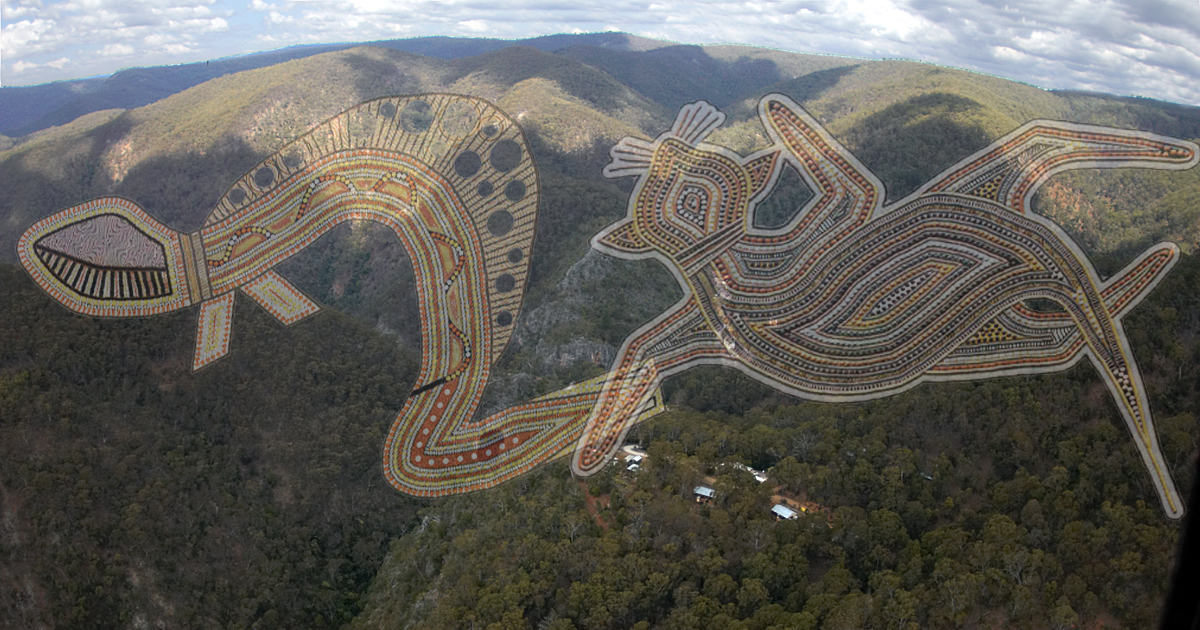 Image Courtesy of Jenolan Caves
We have been extremely blessed to have Chris Tobin, custodian and proud Darug man, perform an Aboriginal Smoking Ceremony on all Mountain Whispers properties. Part of the Darug tradition, the smoking ceremony ensures a peaceful atmosphere when you sit down with your hosts and clears away any bad energies inadvertently invited through travels. Chris was honourable in acknowledging Lorraine's personal journey, and paying respect to country and its people.  
"Thank you for the invitation to come and meet with you Lorraine, share your story and that of our people's and assist you with this traditional, respectful and heartfelt ceremony".   Chris Tobin, Darug Custodian.

Always was, Always will be Aboriginal land.