Why is it that boutique accommodation and hotels always have the most comfy of beds?
With those super-soft sheets, divine pillows and light-as-a-feather yet toasty warm quilts, the very best hospitality providers, make you want to stay in bed all day and find you enviously stroking the sheets and hunting for a label in a bid to discover their secret!
So how do you recreate this luxury at home? Why does your bedding always feel a bit flat and far from cosy within a night of sleeping in it?  I am asked this frequently and although I won't be sharing my supplier secrets, what I will share with you, are my top tips to a five star sleep experience every night and of course, the insider tricks I use at each of my properties here at Mountain Whispers.
Let's start with sheets.
Sheets
Thread counts can matter when it comes to sheets.   Thread count is often associated with quality, however it is not the quality that increases, it is the softness.  But of course many people associate softness with quality, which is where the misconception has arisen.  So if it is softness you are after, then thread count most definitely matters. Most hotels use crisp white for their sheets because it gives a clean effect and makes a room look fresh and modern.
What's our Secret #1 at Mountain Whispers: We use 1000 count Egyptian cotton sheets opposed to regular cotton. The Egyptian cotton is a lot more porous which in turn will soak up a lot more moisture than regular cotton and therefore, greatly assists to ensure a luxurious night's sleep.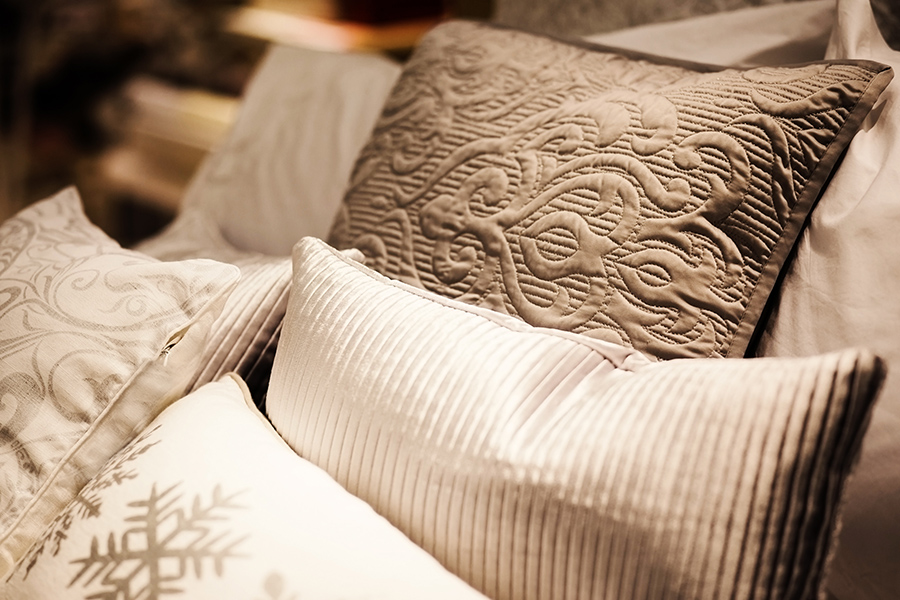 Pillows
The more the better – go for four to six if you can, putting the ones that you actually use underneath the others.  Use a pillow protector under your (soft, high quality) pillowcase and your pillows won't be subjected to sweat and natural oils, meaning they will last longer.
What's our secret #2 at Mountain Whispers:  Although feather and down pillows are considered to be the fluffiest and most comfortable, we choose a hypo-allergenic down alternative pillow, as based on feedback from our guests, feather and down is not the best choice for some allergy sufferers.  Once you experience our pillows, I think you will agree that we haven't compromised on comfort and 'snuggleness'!
 Duvets
Call them what you will, duvets, doonas, quilts or comforters, the lighter and warmer, the better.
Most hotels go for plain white, textured white or white with small colour accents to highlight how fresh and clean their linen is.  At Mountain Whispers however, we are all about opulence, period colours and those cosy, warm emotions, which our palettes evoke. At home in the summer months why not take the insert out and just use the cover for a cooler sleep.
What's our secret #3 at Mountain Whispers:  Believe it or not, wool doonas in all our bedding achieves that amazing comfort rating!   They can be used all year round, are a natural insulator, and give even heat-distribution of warmth as opposed to down that tends to get caught up and clump.  Wool is safe and non-flammable and keeps that "plump" luxury look in the cover. Wool is also great in summer, as it absorbs your body moisture so you don't feel hot and ticks all the boxes, especially for a blissful sleep in the mountains!
 The final secret revealed… 
Often overlooked and not the most exciting of bedding options, however it is a mattress topper.
"Your beds are always so soft!"  I know!  I hear that from delighted guests all the time!  That's because we don't skimp on quality mattresses and we put a super-soft mattress topper under the fitted sheets. I recommend you invest in the best you can afford to make you feel like you're lying on a bed of fairy floss, night after night and remind you of your blissful sleep here at Mountain Whispers!
So there you have it.  My Mountain Whispers bedding secrets!  Sweet dreams!