Award-winning artist Trish Smart has known she wanted to create since she was a child, drawing her inspiration from her love of the Australian bush, science and a little magical whimsy for good measure. Trish is a Blue Mountains local who not only champions our stunning natural surrounds in her eclectic mix of artworks, but our unique wildlife as well. With a penchant for commissioning some of the most detailed murals you'll ever have the pleasure of witnessing, Trish shares with us how the Blue Mountains move her to create, why she stays and where she thinks you'll find the best hot chocolate on a chilly morning.
Let's talk with Trish about her inspirations, her passion for nature, and what a day in the life of a Blue Mountains artist looks like ~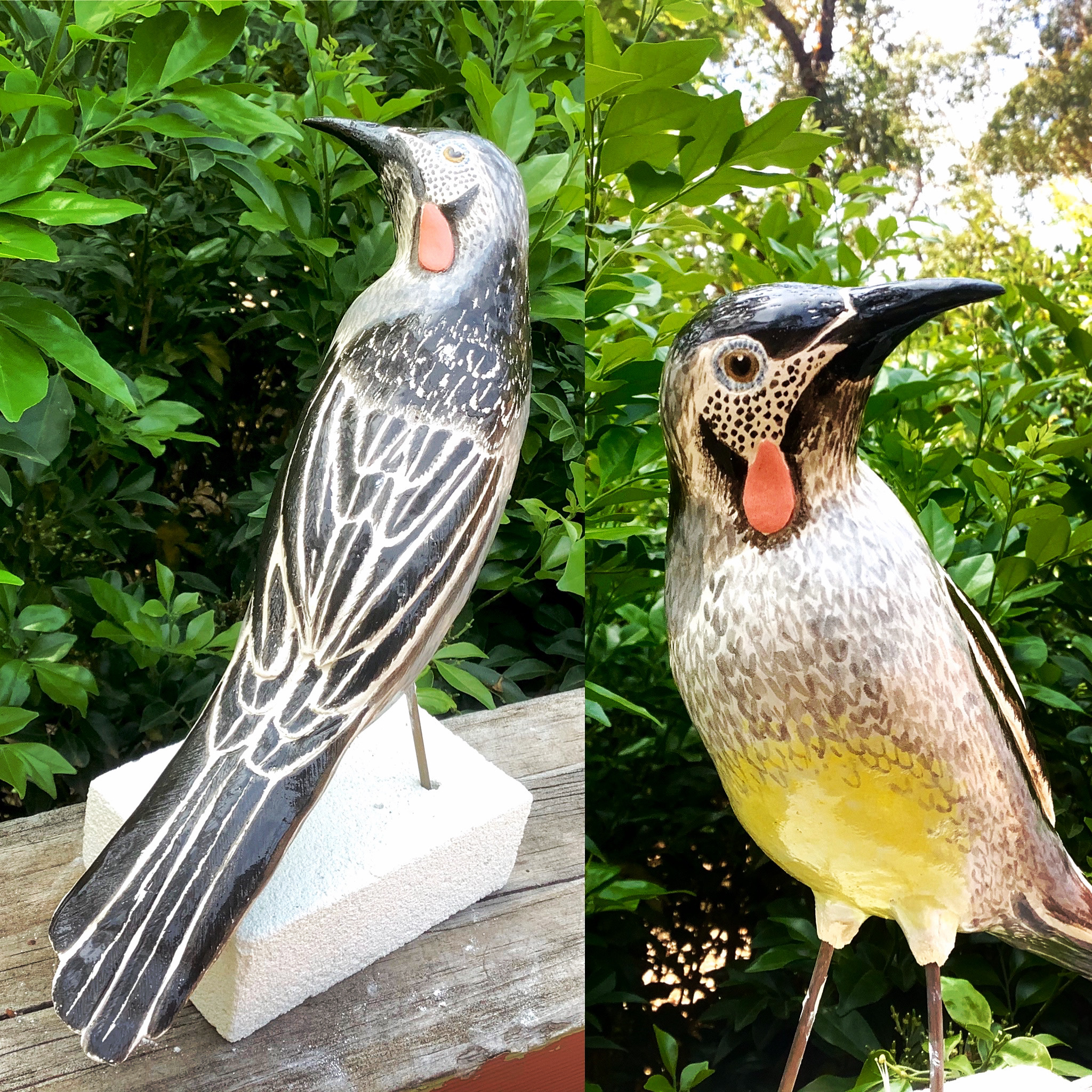 How do the Blue Mountains inspire you?
I have lived in the Blue Mountains now for over 25 years and they never cease to inspire me. It is not just the natural beauty of the place with its distant horizons into wilderness and Sydney skyline. It is the weather. We get to experience the seasons up here. Crisp Autumn mornings are my favourite. The foliage of the old ornamental trees gives the villages a shot of colour and the gum trees flower before we all bunker down to warm fireplaces and snuggle up on the lounge with a blanket in Winter. Then, there is always the hope for a day or two of snow to bring a little magic into our lives. In Spring the blossom trees burst into life although my favourite are the native waratahs that can be seen through the bush like gifts heralding some warm weather to come. In Summer we begin to feel the heat. I can remember when we used to have only two or three days of extreme heat, now there are more. I like to go to one of the many natural water holes that are found throughout the mountains to cool down in the fresh water while enjoying the bushland setting. The mist that we have after a hot day is like a cool balm, soothing everything it touches.
In short, it is the atmosphere. A sense of peace and calm. A closeness to nature where we are constantly reminded of our place within it.
Some of your works focus on the natural beauty of your local surroundings. What is the message behind your work?
In recent years my work has focussed on ceramic sculpture. My love of the flora and fauna of the mountains first inspired me to simply recreate them in clay. Magpies, echidnas, wattle birds and frogmouths. I also have a love of whimsy and the magic of the bush. I make bush creatures, a morphing of things like my possum bird, baby bird and little bunyip who is part human, part rosella and part frog.
My waratah girls are very intricate. I love the complexity of our native flowers. They are unique. It takes me many, many hours to make all the elements before putting them together. They are human heads with the features of the flowers adorning the skulls like hair or a crown.
Now I am working on a sculpture inspired by the difficult year we have had to date in 2020. It is called "Annus horribilis "or "How much can a koala bear?". I made the sculpture to help me process the devastating fires in early 2020. The loss of habitat, wildlife pushed to extinction, animals that were trapped in the bush that had once nurtured them. It expresses the anguish, cries for help and empathy, and sadness that was palpable. The beauty that was charred. But there was hope in the regeneration of the land and the spirit of the land and its people. Then just as there seemed to be light at the end of the tunnel Covid-19 hit… It is a gift that art allows self-expression, good and bad. I would recommend to anyone who is feeling anxious to pick up a pencil, brush or clay and just make anything. It is cathartic.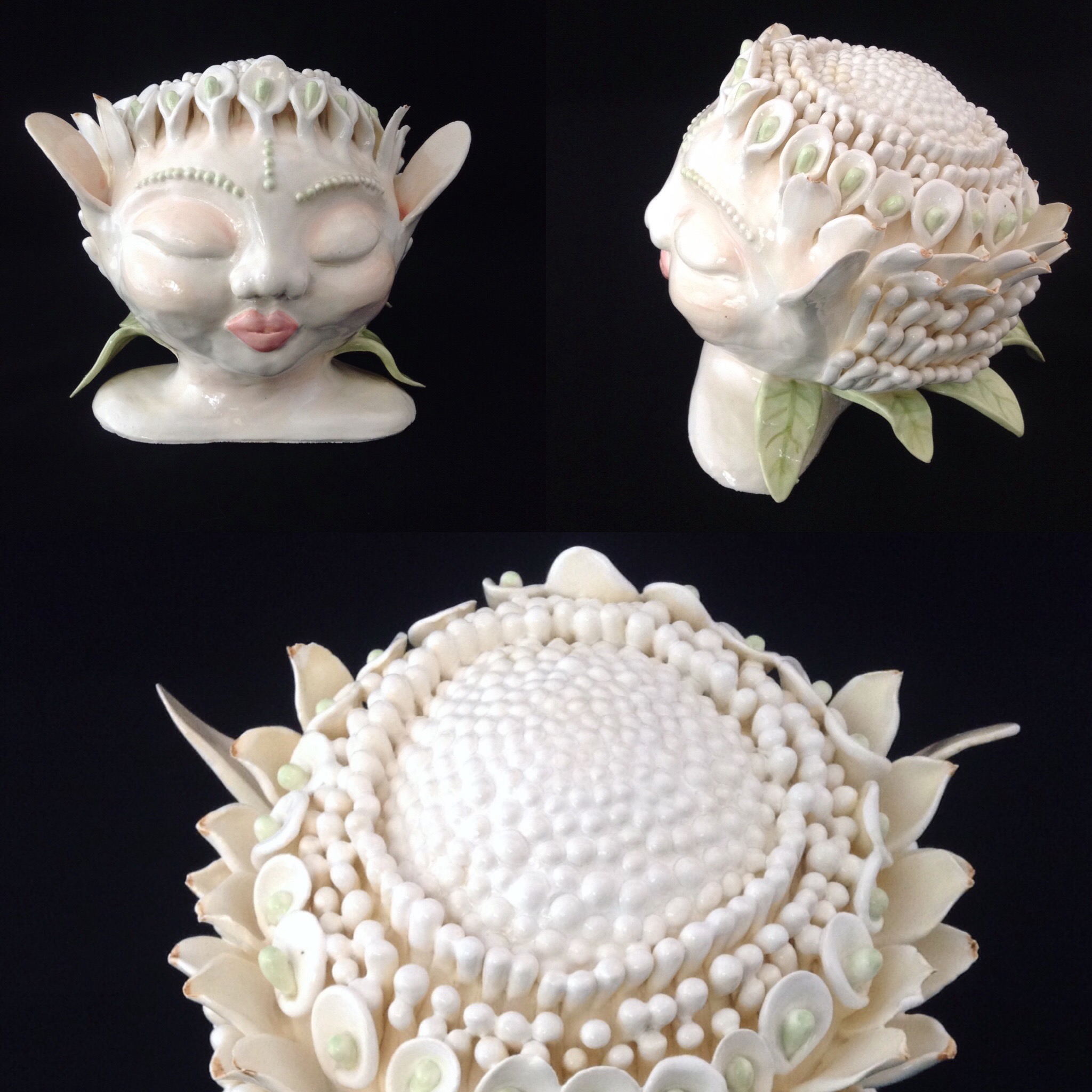 What keeps you in the Blue Mountains?
The Blue Mountains is my home. It is where I brought up my two boys. I travel around the country and fantasise about living in many of the other beautiful places Australia has to offer but I could never bring myself to leave. The village atmosphere and community spirit in the mountains is strong, each Village with its own personality. Katoomba with its Galleries and tourist buzz. Leura has its boutique shopping, cafés and charm as does Wentworth falls. Closer to my home, Lawson is a great place for foodies. I live in Bullaburra and we don't even have a shop but It is a great place to live day to day without the tourism hustle and bustle.
I love that I can get to Sydney if I need to. The country trains take about an hour and a half and are air conditioned and comfortable. The trip is scenic and enjoyable.
What does a typical day look like for you?
As an Artist I create my own work, however I have been a commercial Mural artist for over 30 years in my own business. Almost all my Mural commissions are in the Sydney area. On the days when I am working, I will typically get up around 5am and after feeding my cats and making a coffee to go I hit the road by 6am and drive for usually around 1.5 hours. I listen to the radio on the way. I paint for 6 hours then return home. I always delight in seeing the mountains in the distance when I travel home along the M4.
I live on half an acre of landscaped garden and natural bushland. I'm a morning person and I can watch the sunrise from my back deck and believe that morning is the best part of the day. There is abundant birdlife and I am woken to the sound of birdsong and sometimes Cockatoo's squawking. My cats, Banjo and Clancy have a ritual or a way of torturing me, where they want to be let in and out continuously for around an hour. I trained them to ring a bell at the back door when they want to be let in, yet they refuse to learn how to use the CAT door!!
After breakfast I may go out to my studio. It overlooks my front yard which is primarily native bush. On very lucky days the Black Cockatoo's which are my favourite birds, will come and feast on the banksias. It is said that the call of the Black Cockatoo's means rain is coming. During the fires, I did a painting called "The Fire Eaters". Like just about everyone else in the country, I was glued to my 'Fires Near Me' App. I painted coloured areas like the fire areas on the app in the background of the work. The feature was a large black cockatoo feasting on flowers of flame. I was longing to hear the Black cockatoos calling to give us some hope.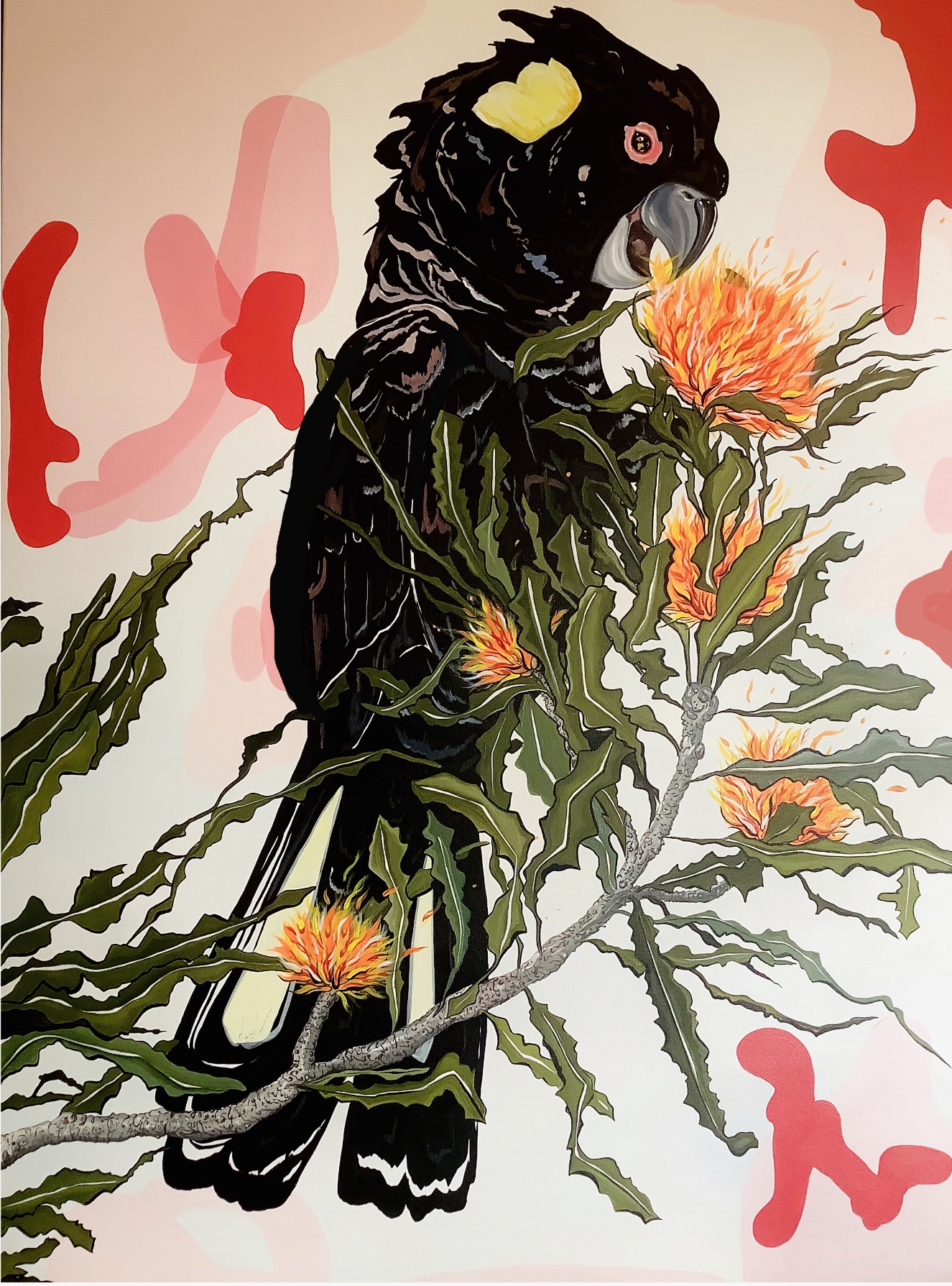 When I work in my studio, I usually have two or three projects going at a time, either clay, painting or printmaking. While I'm working, I listen to 702am radio. I take breaks in between where I will do some gardening, which is my other love. I built my home in 2000. We moved in during the week of the Sydney Olympics. There was native bush out the front, but the backyard was dirt. I delight in watching the garden grow, I have lots of trees. Most of them are deciduous so I have shade in summer, colour in Spring and sun in Autumn and Winter. I also use my garden to display my sculptures. Ceramic birds in the trees. A magpie on the deck railing. The centre piece to the back yard is a large fire pit inspired by Gaudi, I designed it and created a mosaic around the pit. I cut out Hebel blocks for the seating area and set the sandstone floor. It was a labour of love that my partner Olly and I worked on over many years. We do just about everything ourselves. I love the sense of satisfaction you get knowing of your own accomplishment.
Where are your favourite locations in the mountains to paint, eat, grab a coffee?
I haven't plein air painted ever. I'm not sure why. Maybe it is because most of my Mural work is outside. I take photographs and work from them. I love bushwalking and frequently walk in Lawson at Dantes Glen. This is my outdoor gym. A good number of stairs to get the heart pumping. I walk with friends. It is a time to talk of family and life in general. I live very simply and rarely go out to restaurants or for coffee. One place I do go to though is the conservation hut at Wentworth falls. It is at the end or start of several beautiful bushwalks and a great place for a reward of hot chocolate on a cold Winters' day, with an open fireplace and spectacular views.
Visit https://www.trishsmart.com.au to view more of Trish's amazing work, or visit MW Collection to take one of Trish's wonderful bushwalk recommendations next time you visit the beautiful Blue Mountains.