Settling into the heart of winter in the Blue Mountains means cool temperatures, a chance of snow, and a never-ending opportunity to relax by a warm fireplace. As the Southern Hemisphere closes in on Yuletide, why not enjoy such a wintery event in an exceptionally chilly and cosy part of NSW this year? And by adding a touch of luxury, it only makes the experience more memorable.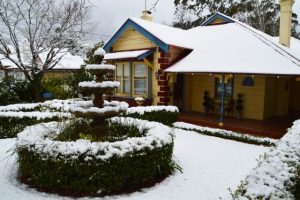 Staying with Mountain Whispers is a luxurious experience, with each historic property restored and decorated with charm and elegance and no detail overlooked. We invite you to relax in total privacy and comfort with modern facilities whilst in the ambience of a bygone era. This month I wanted to share four simple ways to make this Christmas in July with family or friends, a deliciously luxurious one here in the Blue Mountains:
The Mountain Whispers' Indulgences
We can arrange an array of services to make your getaway extra special. We have sorted all the details with the best providores in the Blue Mountains so that you don't have to worry about anything except enjoying your stay. Here are some tempting examples:
Special indulgence packages such as the 'Relax, Rejuvenate & Unwind' package which include an in-house massage and facial with scented candles and soft music.
Custom indulgences such as a gourmet antipasto platter waiting your arrival, fine hand-crafted chocolates, various arrangements of roses, various French champagne on ice
In-house dining for your private dinner prepared and served to you
*Please contact Lorraine to discuss Indulgence packages, as all based on availability

Exploring Food and Wine in the Blue Mountains
​​If you are itching to get out and explore everything the Blue Mountains has to offer your taste buds, let us recommend some noteworthy places:
For something special:
Silk's Brasserie
Mr Collins of Leura
Darley's Restaurant
Echoes Restaurant
The Wintergarden at the Hydro Majestic in Medlow Bath

For something more rustic and 'local':
Leura Garage
The Carrington Hotel
Unique Patisserie
The Bunker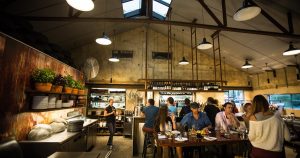 The Luxury of Company
It should never be underestimated and never more so than post COVID, that a getaway with loved ones is a luxury in itself.  We are always pleased to be able to host a memorable and relaxing stay at any of our historic properties as well as organise any indulgent treats! Most of our guests attest to feeling reinvigorated and refreshed after leaving Mountain Whispers, so why not share in such an experience with those whose company you value most?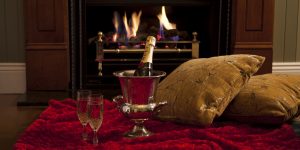 Getting Cosy by the Fire
Who doesn't love sitting by the warmth of a fire? All but one of our properties use gas log fireplaces, so if you fancy having a go at creating the perfect indoor fire by yourself, why not book Strawberry Patch? To make things just that little more indulgent by the fire, we recommend you enjoy some chocolates, a movie, and a glass of belly-warming port. This can be organised too.
So if luxury, relaxation, invigorating mountain air and a toasty fire is what your heart desires this July, I would love to make that a reality for you. We look forward to welcoming you.