Winter is a romantic and enchanting time of the year in the Blue Mountains and naturally, it provides the perfect backdrop for a magical vintage wedding.  Rich colours, roaring log fires, perhaps even snow.  There are many reasons to opt for the oft-forgotten Winter wedding – photographers love the depth that grey skies provide in black and white shots, caterers and florists can source glorious fresh produce not found during other seasons and it may also be a budget friendly option given the low season.
When looking for Winter Wedding venues, look at places that can host the ceremony, reception and offers accommodation also. This means a lot less stress for the Bride and Groom, waking up at the very place they are to be married later in the day without the worry of travelling in wet or cold weather. It also means that all of your guests will have somewhere to stay, both before and after the big day, allowing them to really take in the surrounds and relax throughout the nuptial festivities.
Providers, make-up and hair artists, entertainers can all be found together in the one place, ensuring communication is efficient and the day runs smoothly.  Photographs can move easily between the ceremony and the reception, often meaning less time wasted, more opportunty to include more guests in your shots if you choose, or alternately allowing your guests to enjoy a few celebratory champagnes without the need to drive to a second venue.  Most importantly however, holding a wedding day at the one property ensures that everyone will be on time, relaxed and focused whole-heartedly on the wonderful event taking place.
Which is why Mountain Whispers is one of very few locations where the bride can truly 'have it all'.
Winter finds the vintage-inspired bride hard at work, sourcing delectable details to ensure her day reflects her love of yesteryear. Soft lace swept up off the shoulders, bejeweled hair combs securing manicured curls and hues of soft cream and rose pink dotted throughout hand-written invitations and place cards – signature signs of a vintage wedding, that are donning glossy magazines as the 'latest wedding trend'.

However, the Winter bride can hit a few speed bumps in her organisational journey, with authentic vintage garments becoming rarer than hen's teeth to source. Unless you can find a designer/wedding planner inspired by the romance and whimsy of decades gone by, it may be easier, and often more economical, to source original pieces to restore to their original glory. The dress, the table settings, even the bomboniere, can all be an opportunity to reflect your love of times gone by: a classic, magical era that lends itself perfectly to the romance of a wedding day.
Eszter Varadi, Vintage Hair, Make-Up and Styling specialist and stunning model in our recent wedding shoot says that in this day and age, the internet should definitely be a bride's first choice when it comes to research for a vintage wedding. As a second port of call, Eszter shares:
"I personally love treasure hunting at vintage markets, shops and antique stores across Sydney. You never know what you'll find.  Vintage has been my one true love for about 6 years now, I live and breathe it, as do many, many modern Brides."
Favourite Sydney-based vintage institutions like the Paddington and Kirribilli Markets pride themselves in encouraging local collectors and craft-people alike to offer their handmade or sourced antique wares, new and recycled fashions, jewelry, arts and crafts and a whole lot more. Many a treasure can be found by hunting these markets and those similar, and Antique stores also provide the perfect environment for vintage-inspired treasure hunting.
Eszter goes on to explain that the vintage era has made such an enormous come-back of late because it lends itself so well to a classic, memorable and ageless wedding.
"A Vintage wedding will never make you cringe when looking back at photos. It is timeless."
Eszter also suggests reaching for period books, publications and old Hollywood movies as a must-do for further inspiration. A vision board with cutouts of images you've seen and loved can also help vendors understand the exact look you are trying to achieve. And asking your florist, hair and make-up artist, your caterer and stylist for professional advice on the vintage look is a wise decision – experts in their field will be able to advise you on the choices you have that tie in with your theme. Lastly, if you are close enough to a relative who lived through the 40's and 50's, pop the kettle on, take a seat, and start a conversation that ignites their memories of the era and your imagination. You may even be lucky enough to take a little glimpse into their jewelry box or wardrobe – where many a bride has discovered her perfect 'Something borrowed'.
Happy treasure hunting!
To visit and view the Mountain Whispers properties for your next wedding or event, please contact Lorraine on 1300 721 321.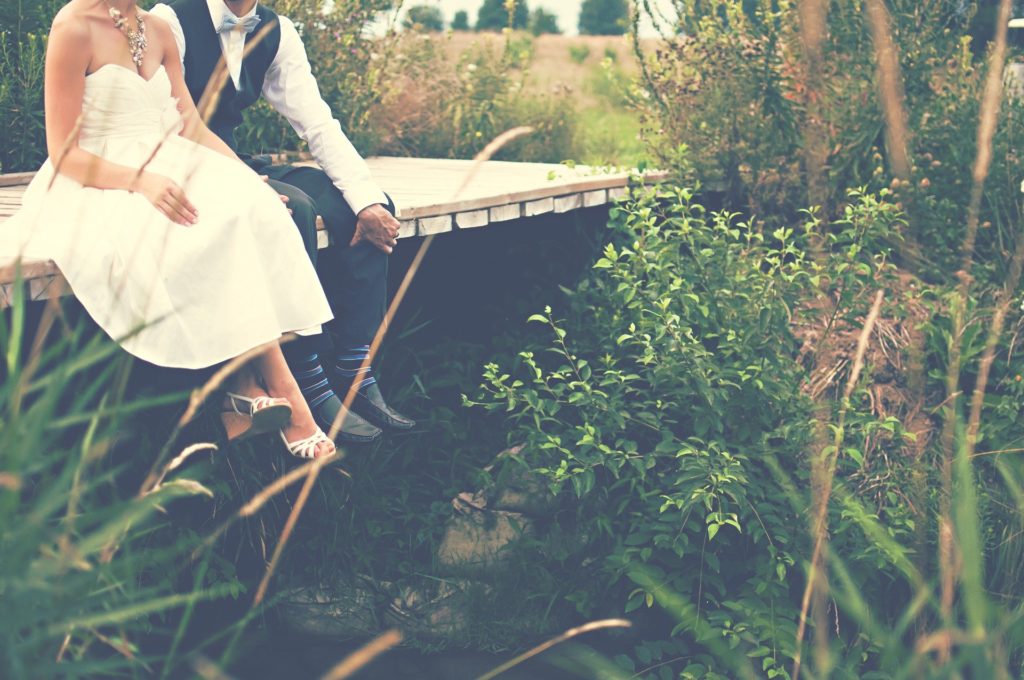 Mountain Whispers Vintage Wedding Photography courtesy of Brigitte Grant Photography.  Hair styling courtesy of The Hairloom Hair & Beauty.  Vintage Car courtesy of Blue Mountains Vintage Cadillacs