A holiday at Mountain Whispers is all about luxury, and Leura Rose showcases this perfectly.
When you arrive at Leura Rose, be ready to be welcomed by warm timber floors, classic period furnishings and luxury inclusions. The property is a classic Blue Mountains weatherboard home, built in 1914 as a mountain retreat for a wealthy Sydney merchant. Over a century later, you get to enjoy the warm ambiance and leafy gardens that is Leura Rose today.
Let's take a peek into the living areas first. One of the first things you'll notice when you walk into the lounge and dining room is the gas log fireplace and the plush sofas. On arrival, this is where you'll find your complimentary port, chocolates and flowers waiting for you.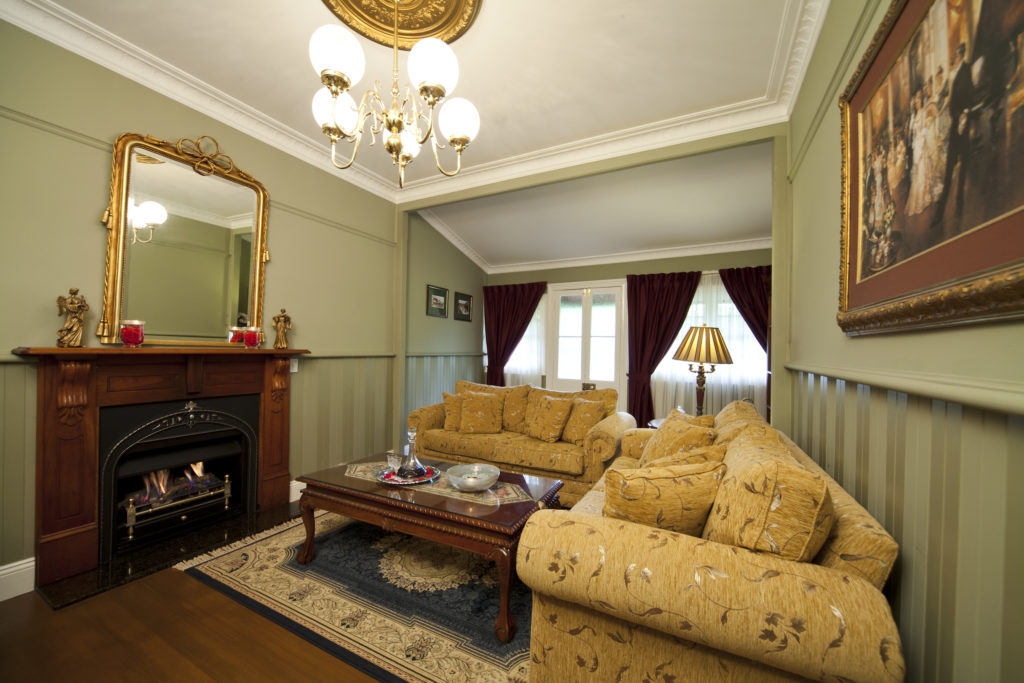 The lounge room is waiting for you to retire at the end of the night, with soft lighting, and a beautiful collection of books to take your interest. This is also where our guests love snuggling down to watch a movie on the large flat screen TV (either on DVD or Austar) with a glass of red wine. You'll also find a CD stereo to fill the room with your choice of music (also plays through the spa bathroom) and a range of games for relaxing and fun on a quiet night in.
The bedrooms are the epitome of luxurious. Each of the three bedrooms feature a classic mahogany four-poster bed with the finest linen and soft pillows. Soft lighting and specially picked candles add to the romantic mood while our fluffy duvets and electric blankets ensure a warm, restful night sleep getting you ready for exploring the area the next day.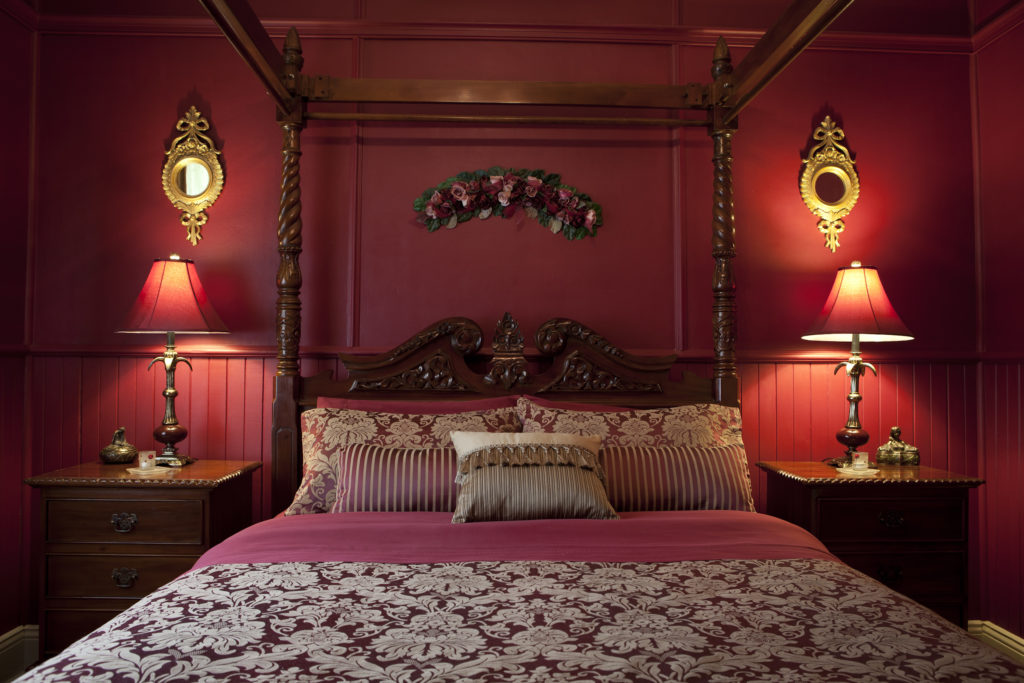 You'll be surprised by the bathrooms and may never want to leave. The main spa bathroom will likely be the highlight of your stay, with under-floor heating, extra-wide shower and a double spa bath that overlooks our leafy garden. To top it off, the warm gas log fireplace provides romance and relaxation. You'll find yourself relaxing quickly with recessed speakers playing your choice of music.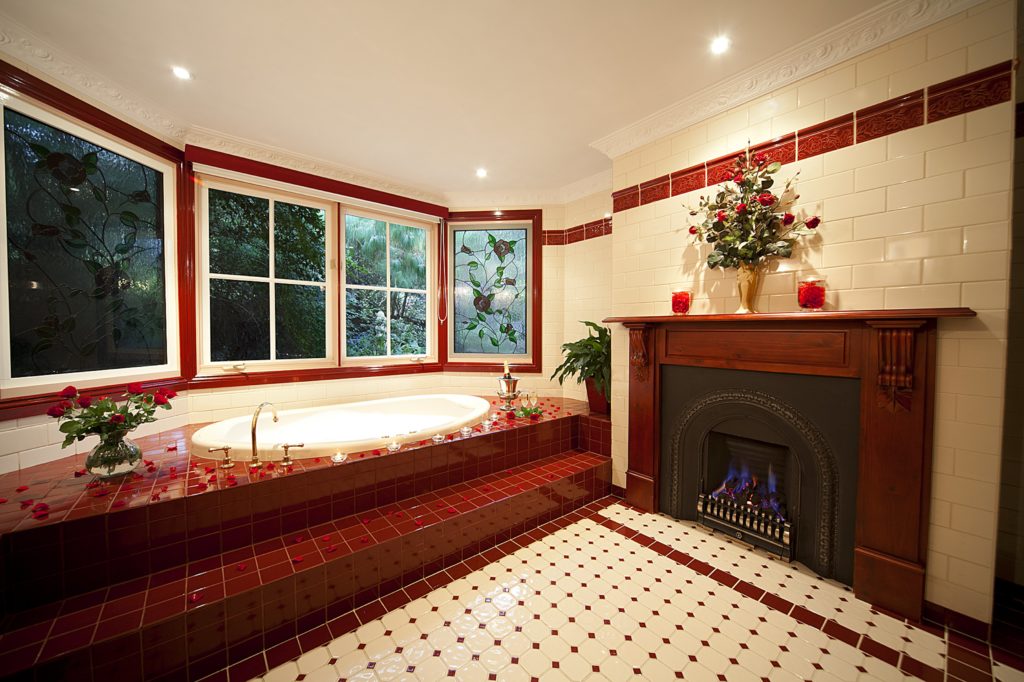 Once finished, you'll find a soft bathrobe and slippers waiting for you.
Our second bathroom features a shower with a double corner spa bath and quality complimentary toiletries.
Whether you want to prepare a three course meal or a simple dinner, our kitchen has everything you need for a great meal. One of the first things you'll notice when you walk into the kitchen is our marble benchtops, mahogany joinery and quality appliances that are a luxury experience on their own. The large farmhouse-style dining table provides enough dining space for everyone, while breakfast is best served on the sunny north-facing patio adjoining the kitchen. Should you wish to take your cooking skills outside, a barbecue is ready and waiting.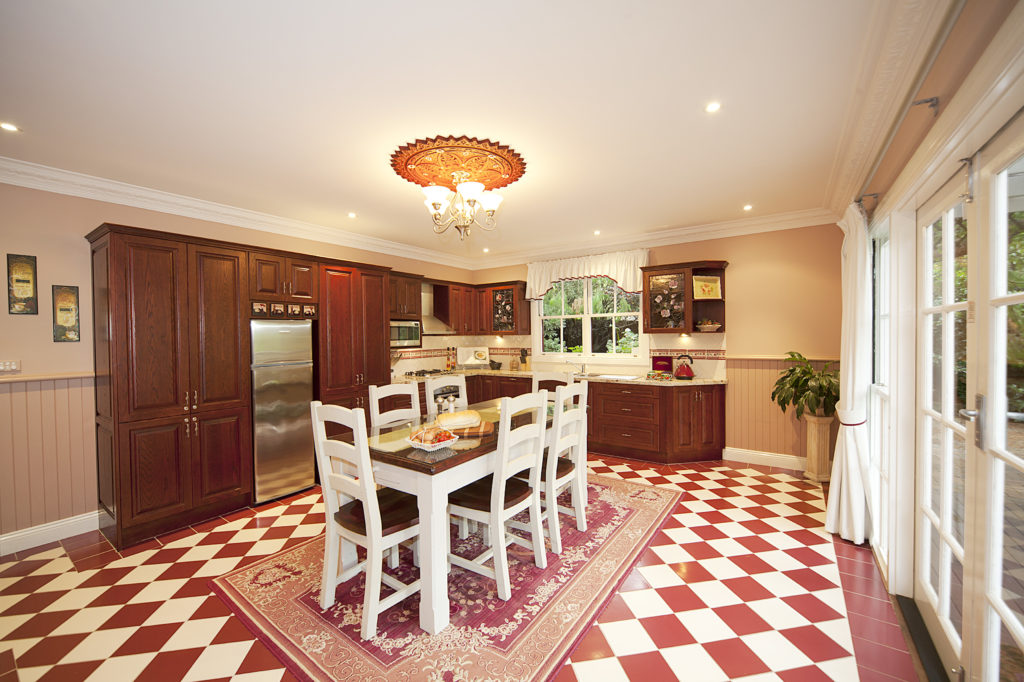 If you don't feel like cooking, or want a special meal cooked for you without leaving Leura Rose, our in-house chef and waiter can take care of all your foodie needs.
But, it is of course, the little luxuries and special inclusions that make a stay at Leura Rose wonderful. A warm welcome with the central heating and gas log fire running make warming up in the cold winter easy; complimentary port, chocolates and flowers from quality local suppliers; the finest toiletries in both bathrooms; soft fluffy towels, bathrobes and slippers for use during your stay; candles for added romance; and all your preferences catered for including your favourite kind of bread or coffee.

Do you have a special request? We have an in-house chef, waiter and masseuse, and have surprised many guests with roses, champagne and more. If you have something special in mind, we'll do our best to cater for you.
Does Leura Rose sound like your type of Blue Mountains escape?
Book your Leura Rose Mountain Escapes Luxury holiday today