Although staying at a retreat or a hotel can be a fun girls getaway with friends, there is something particularly special about staying in a place where you can choose what you want to do, eat and when.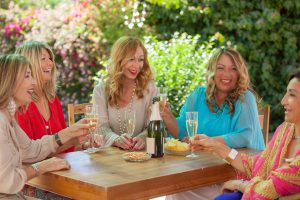 Planning your next girls escape with Mountain Whispers is rather exciting when you can choose from five immaculately restored properties in either Leura or Katoomba. The Blue Mountains is a simply beautiful place for a getaway with friends in any season, as the crisp mountain air and cosy villages will always leave you feeling relaxed. Gather your girlfriends and experience for yourselves what a getaway on your own terms is like.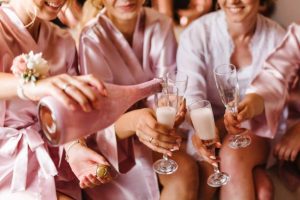 Choosing your indulgence
The luxury starts with our indulgence packages, uniquely tailored to you. Guests are greeted with luxury complimentary indulgences which include port, wine, chocolates, slippers, fluffy bathrobes, fresh flowers, and more. There is also the option to book an "Indulgent Escape" package or customise your own!
Here are some of the things that can be enjoyed:
Bubbly on ice – Moet & Chandon with chilled glasses on ice
Gourmet antipasto platter filled with stuffed garlic & chilli olives, fetta, stuffed bell peppers, sliced salami and more
A wide selection of celebratory cakes
Massages and facials (in-house when possible otherwise with our local therapist)
Please ring Lorraine on 1300 721 321 to organise a custom indulgence package.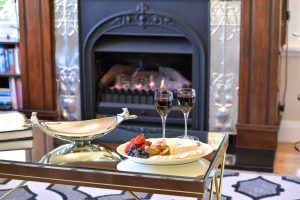 No meal-time restrictions
Perfect for friends who all want to eat something different, may want to eat early, late or simply graze. No more stressing about dietary needs either when you can shop and cook together! Fixed meal times in retreats and hotels can be a hindrance to your relaxation, especially if the food is not to your liking! Cook with your friends in the privacy and warmth of your chosen property.
If you like to enjoy food with a magnificent view, why not book the Chatelaine – gaze upon the Jamison Valley and Megalong Valley as well as the lawns and manicured gardens of the property with your home-cooked meal. Or even picnic outside!
We now offer heat and eat options where pre-made meals are brought to you and all you need to do is heat and eat. OR fancy a cook coming to you and preparing and serving on-site?  No need to clean up, this'll be done for you so all you need to do is sit back and enjoy.
There are also plenty of places to dine out too of course, that we assure will delight your taste buds. We recommend:
Mr Collins of Leura
Leura Garage
The Bunker – Cafe Bar Restaurant
Darley's Restaurant
Pins on Lurline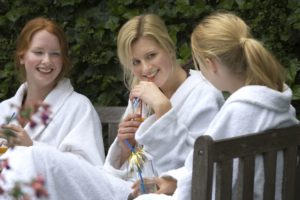 Activities on your own terms
Enjoy the freedom of the location! Enjoy chatting with friends on the balcony or veranda, wine by an open fire, visit quaint and artisan stores, and enjoy each other's company in the luxury of Mountain Whispers. Each property is in a convenient location whilst upholding the value of privacy. Enjoy short strolls to Leura Village and Katoomba shops, bushwalks, and more.
If this sounds like an escape for you and your besties, please ring Lorraine on 1300 721 321 to book or click the 'book now' button on our website.