An escape isn't an escape without a great meal or two, so we've put together a list of top places to dine while staying in the Blue Mountains.
1. Your own Mountain Whispers property
Spoil yourself and your loved one with a three course meal cooked by our very own private in-house chef. Whether you're celebrating a birthday, engagement, anniversary, or just taking a break away with the girls, this is the ultimate in luxury in the Blue Mountains. Enjoy the luxury of having a meal cooked by a private chef, without needing to leave your Blue Mountains accommodation.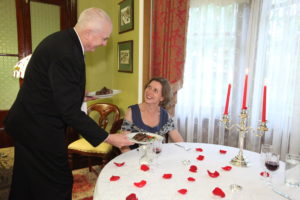 2. Darley's Restaurant – Katoomba
Located within Lilianfells Resort & Spa, Darley's is a multi-award winning Hatted restaurant serving up beautiful food with amazing views. Located within the heritage listed, original homestead of Sir Frederick Darley, the sixth Chief Justice of NSW, Darley's is great for weddings, celebrations or quiet meals. With 80% of their produce sourced from within 100 miles of the Blue Mountains, this is a lovely spot for dinner.
3. Leura Garage – Leura
Another restaurant that tries to source as much produce as possible within a 100 mile radius of the Blue Mountains, Leura Garage is a great little spot whether your chasing lunch or dinner. With a menu that changes with the seasons, and a great fun atmosphere, Leura Garage offers banquet menus and tasting menus as well as share plates, salads and mains.
4. Rubyfruit – Leura
For something different, and delicious, pop on by Rubyfruit – a vegan bakery and cafe. Don't be put off though, these guys make some amazing cheesecakes, burgers, frittata, desserts and more. Located in Leura Mall, head along during the week or on a weekend for brunch, lunch or afternoon tea. With some delicious goodies on offer, Rubyfruit is a great stop while exploring the Leura region.
Enjoy the Art Deco period at Avalon. Found in the historic Savoy Picture Theatre building, Avalon offers quirky decor and great food. Dine in the old dress circle of the theatre and enjoy cocktails in the old refreshments lounge, while soaking in the 1930's style. Offering lunch, dinner and delicious desserts, Avalon is a great lunch or dinner option. If high tea is more your style, treat yourself each weekend at noon to high tea in Mrs Pollard's Fabulous Old Fashioned Tea Rooms. Enjoy savouries, sweets, desserts, tea, coffee and of course a little bubbly.
You're spoilt for choice with so many places to enjoy a meal in Leura & Katoomba, as well as the wider Blue Mountains; we can guarantee you won't go hungry!
Book your Blue Mountains accommodation at Mountain Whispers today.